The achievement of works or unauthorised interference in the old town of the large cities has been a reality until very recently. Fortunately awareness for the protection of property that forms part of the Cultural Heritage and the enhancement of their cultural values has changed, and today the rehabilitation of real estate is controlled with a magnifying glass by public authorities to avoid putting at risk the history to save these types of buildings.
A living example of invisible Malaga is found in Calle Hinestrosa, between Madre de Dios and Frailes. A short stretch of pedestrian sidewalk that guards the detailed history of Malaga of the 18th century, a city that resisted the age of Enlightenment, a city that sang its first songs, was punished by famine and who was unaware of what they would have to suffer with the absolute outrages.
It is in this tiny little piece of Malaga, where we find real gems of history, houses of the time, and thanks to the respectful reformations, allowed us to glimpse paintings and murals, with their wild and geometric patterns, that someone in an unconscious or desperate moment, in a time of rage, had covered in quicklime.
Recenlty, Mármoles Fernández has been fortunate to work in one of these restorations. A beautiful project in which the architects Susana Gómez and Álvaro Rodríguez at Arquimas Architects, mixed as if from a miraculous potion the old and new, achieving an almost perfect fusion that takes us back to another era. A delicate work, which means the recovery of the original constructive elements and the incorporation of new and environmentally-friendly details. A job that requires expert hands, the hands of Andecopro 2001.
Slowly but surely the reformation continues and soon we will offer you pictures of the fully finished House. To give you an idea, here is the photo of a neighbouring House, you will agree with me that it is wonderful and it would be a shame if this type of buildings would continue to be neglected.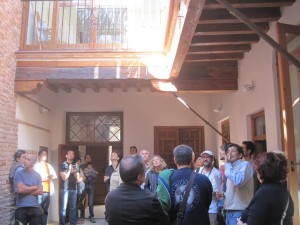 Near our location the church of San Felipe Neri has in its interiors our marble and the passion for perfection. Indeed a well-done job. But this is another story.
https://marfesa.com/wp-content/uploads/logomarfesa-300x103.png
0
0
admin
https://marfesa.com/wp-content/uploads/logomarfesa-300x103.png
admin
2014-11-19 13:25:15
2014-11-19 13:25:15
Málaga Invisible