[vc_row el_position="first last"] [vc_column] [vc_column_text el_position="first"]
In recent times the range of compact synthetic materials for kitchens has grown exponentially. While a few years ago the choice was limited between marble or granite, today we have all kinds of colours, finishes, textures, as well as a wide variety of applications ranging from its use on the counter top itself, showers, floors, sinks, etc.
Compact quartz was the first synthetic on the market. Its high resistance as well as great uniformity of colour, meant it became a substitute for natural stone for those avoiding irregular colours and texture.
There are many commercial brands that we find in the market, but at MARFESA – Marbles Fernandez, we work with those who we believe give a better service and warranty, Silestone and Compac.
Its uses, initially confined to the granite counter tops in kitchens have given way to the lining of walls and floors where you can work with a minimum board, giving the feeling that there are no separate parts but a whole infinite piece.
Compact marble is another good option. Very similar to compact quartz, in this case it is a mixture of marble and resin, which comprises a material more oriented to clients seeking a substitute for natural stone, very similar in physical appearance but more economical and less delicate. Compac is the best-known commercial company that markets such products.
The Techlam porcelain counter tops are also part of materials on offer. Much more hardy and heat-resistant, they are easy to clean, are an option for those who don't mind a more simple look.
Something similar can be found with Neolith, a material that has a look more of plastic, and which offers a multitude of colours and finishes.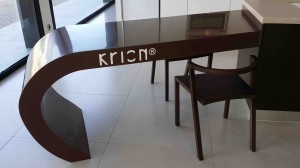 But possibly the great star of our range of synthetic products is Krion. A thermo maliable material that makes impossible shapes with perfect finishing, and is possibly the future of this type of material. Much warmer that the rest of the synthetic materials, it allows retro lighting, curved forms, there are no pores and is very resistant to abrasion and stains. Its uses are endless. Marfesa, is firmly committed to its possibilities and has recently become a Krion handler, after a process of training carried out in the factory of the Porcelanosa group, where its technicians have taught us everything we need to know to give your product the treatment that it deserves.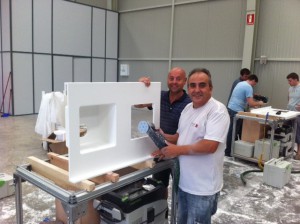 At Marfesa, we can take everything you have ever dreamed of in natural stone and make it with only the best of synthetic.
https://marfesa.com/wp-content/uploads/logomarfesa-300x103.png
0
0
admin
https://marfesa.com/wp-content/uploads/logomarfesa-300x103.png
admin
2014-11-06 18:02:19
2014-11-06 18:03:40
Present and Future of Synthetic